StaticShield + Nuxtjs

You should just paste a snippet in that page that you want to password protect and add a staticshield-div to the top level div. That's it. Really!
💡
If your page is very lightweight, includes no heavy javascript, and you are sure that javascript runs before the HTML renders as shown in the demo video below, the staticshield-div is not required!
You can find the snippet in the dashbaord under the NuxtJS section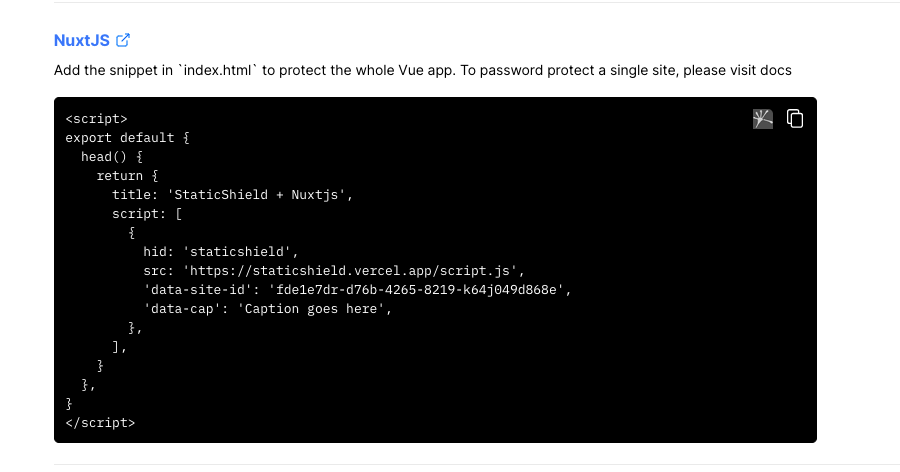 And also don't forget to add staticshield-div class to the top level div of the page.
Finally a password protected Nuxt.js web page looks like
  

<

div 

class

=

"staticshield-div"

>

        title

:

 

'StaticShield + Nuxtjs'

,

            src

:

 

'https://staticshield.vercel.app/script.js'

,

            

'data-site-id'

:

 

'fbe1e7da-d79b-4265-8209-a14f099d838e'

,

            

'data-cap'

:

 

'The password is 123test123'

,
The highlighted part of code snippet is provided by StaticShield and all you have to do is just add that staticshield-div class name to the top level div in template.
⚠️
If staticshield-div class is not assigned to the top level div, the user will see a flash of password protected content while the page loads initially.
Password protecting a whole app is just as easy as protecting a single page.
You will have to add the same script on the <head> of layout/default.vue of the Nuxt app.
A password protected Vue app's layout/default.vue looks like
      title

:

 

'StaticShield + Nuxtjs'

,

          src

:

 

'https://staticshield.vercel.app/script.js'

,

          

'data-site-id'

:

 

'<DATA-SITE-ID>'

,

  border

:

 

1

px solid #

3

b8070

;
💡
The <DATA-SITE-ID> and <CAPTION> fields will be prefilled in the dashbaord. You will just have to copy paste 😍